In November of 2021, the Infrastructure, Investment, and Jobs Act  (also known as the Bipartisan Infrastructure Law) was passed and signed into law by President Joe Biden. This highly anticipated bill made many promises and had a historic amount of funding behind it: with 1.2 Trillion dollars going towards rebuilding America's roads, bridges, and rails while creating jobs, tackling the climate crisis, and investing in communities.
This is a lot to accomplish through one bill, but the IIJA promised to do just that. It has now been one year since this historic bill was passed, and while many of Biden's promises regarding this bill were met, predictably, there were also some shortcomings worth examining.
The IIJA promised billions of dollars of funding across multiple industries to accomplish the above-mentioned goals. Below is a breakdown of the promised funding from the IIJA, for FY 2022-2026.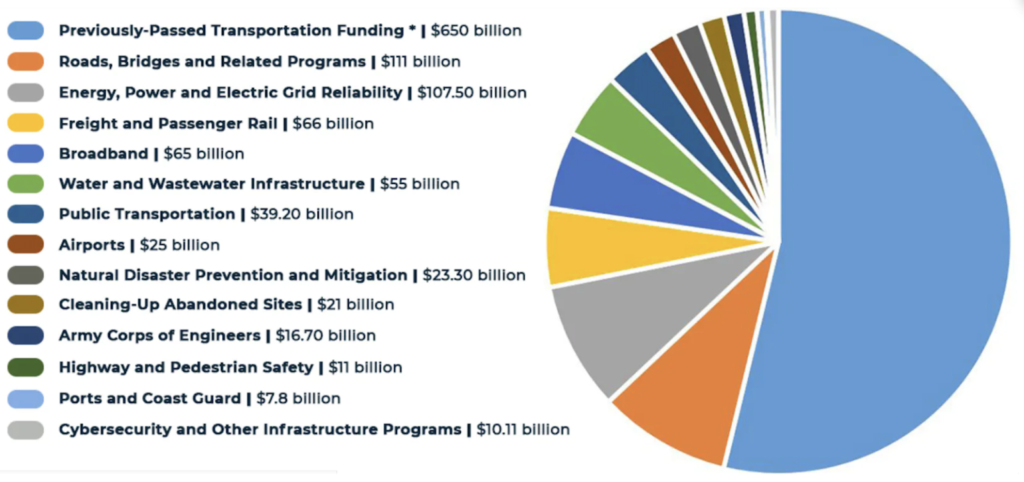 One of the main criticisms of the IIJA has been the slow pace at which promised funds have been released. For example, according to formula-based IIJA funding estimates, California was estimated to receive $41.9 Billion dollars from the bill. However, as of September 2022, only 8.27 Billion of this funding has been announced (see below), with only 7.53 Billion of this funding actually being received by the state.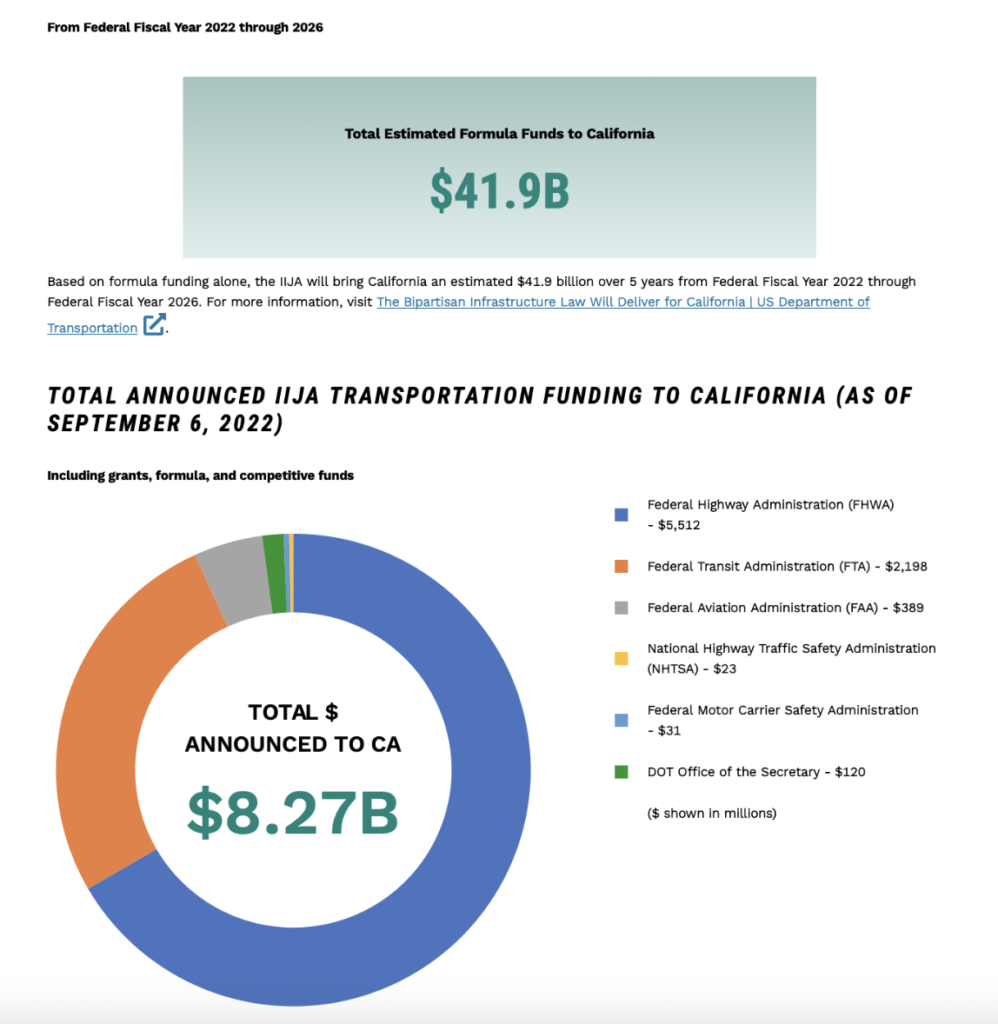 In response to these complaints, the White House has responded that "top officials are putting a spotlight on finding ways to step up the pace for IIJA project delivery". Additionally, in October 2022, the White House released a Project Action Plan, detailing how the administration plans to accelerate the delivery of IIJA programs and funds. Two actionable steps of this plan include creating a new U.S. Department of Transportation "project delivery center of excellence," to help non-federal project managers plan and implement infrastructure projects, and accelerating federal permitting processes for IIJA-funded projects.
Another complaint about the IIJA's implementation is its likely failure to meet the promised 2030 climate change goals. The IIJA has many provisions aimed at supporting climate-resilient infrastructure, promoting greener building practices, and building infrastructure projects that encourage public transportation to reduce greenhouse gas emissions. However, based on the nature and timeline of these infrastructure projects, it is now projected that any impact the IIJA will make in reducing greenhouse gas emissions or addressing other climate change issues will not be tangible until the 2050 Climate Change goals, rather than the 2030 benchmark as initially promised.
Although Biden's promised 50–52% reduction in greenhouse gasses by 2030 is not likely to be achieved, it is feasible by 2050. IIJA programs that aim to reduce greenhouse emissions (such as the Clean School Bus Program, Fixing America's Surface Transportation, Amtrak Program Funding, etc) will certainly help reduce greenhouse gas emissions, but they are unlikely to have a significant impact by 2030. This is due to the fact that many of these infrastructure projects won't be completed by this benchmark. Nevertheless, these IIJA programs will increase public transportation ridership and encourage cleaner vehicular transportation and infrastructure creation which will have a significant impact by 2050.
Despite the above shortcomings, the Whitehouse has made good on some of the promises in the IIJA. Throughout the summer, the Whitehouse increased funding for infrastructure in the transportation sector. In June and July, $300M in new infrastructure funds were made available for expanding ferry services, $1B in funding became available for new airport terminals, and $573M became available in funding for railway crossing elimination. Additionally, new competitive grant programs were opened such as the Safe Streets for All program, the Natural Gas Modernization Grant Program and Bridge Investment Program. Additionally, all states have begun receiving some level of funding through formula-based grant programs established by the IIJA.
Although the IIJA's implementation has been criticized, the IIJA is nonetheless having a positive impact on the state of infrastructure, jobs, and transportation in the United States through the creation of new grant programs and distributing formula-based funding to critical infrastructure projects, while creating new jobs and making progress in the fight against climate change.  
Sources
1 Graphic: https://www.gfoa.org/the-infrastructure-investment-and-jobs-act-iija-was
2 http://rebuildingca.ca.gov/iija-by-the-numbers/
3 https://www.whitehouse.gov/wp-content/uploads/2022/10/Action-Plan-for-Accelerating-Infrastructure-
October-2022.pdf
4 https://www.csis.org/analysis/infrastructure-investment-and-jobs-act-will-do-more-reach-2050-climate-
targets-those-2030
http://rebuildingca.ca.gov/iija-by-the-numbers/