Yesterday, Finance Minister Chrystia Freeland tabled the federal Liberals' 2022 budget. The Budget, "A Plan to Grow Our Economy and Make Life More Affordable," includes $31 billion in new spending over the next five years, which increases the fiscal year's deficit to $52.8 billion, and forecasts a 3.9 percent economic growth this year.
The role of Canadian local governments in strengthening communities and overall, the nation's economy, was a common theme underlying the 2022 Budget. The following is a summary of Budget items as they impact Canadian communities and infrastructure, notably beginning with the most pertinent budget topic: housing.
Housing
The federal government intends to incentivize cities to build as many homes as possible in the least amount of time, aiming to double the rate of construction of the next ten years to diminish the nation's homelessness rate.
To do this, the Government is launching a new Housing Accelerator Fund, investing $4 billion over the next five years to the Canada Mortgage and Housing Corporation. Available to Canadian Local Governments, this application-based funding is intended to grow the housing supply faster by speeding up the time to build more homes, including investing in ePermitting technology to streamline and modernize the planning process.
Infrastructure
Beyond Housing, Budget 2022 has prioritized multiple infrastructure priorities. Over the next five years, $603.2 million will be provided to Transport Canada to support supply chain projects through the National Trade Corridors Fund.
Regarding infrastructure funding, Canadian Local Governments will be able to utilize the Canada Community-Building Fund to access infrastructure funding after the next renewal of the Fund's administrative agreements with Provinces and Territories.
Additionally, Budget 2022 is requiring provinces to fully commit their remaining funding under the Investing in Canada Infrastructure Program (ICIP) to priority projects by March 31, 2023 (formerly March 31, 2025). If uncommitted, funds will be reallocated. Additionally, Budget 2022 proposes to extend ICIP's construction deadline from October 2027 to October 2033 in response to the delays caused by the pandemic.
The table below provides a list of uncommitted ICIP funds by province.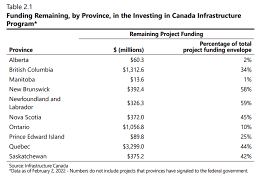 Budget 2022 noted municipalities as critical players in achieving Canada's 2030 emission goals. To this end, the Budget has allocated $500 million to zero-emission vehicle charging and refueling infrastructure to accelerate the adoption of ZEVs in communities across Canada and reduce transportation emissions.
Indigenous Communities
To support Reconciliation, and more specifically, to improve health outcomes in Indigenous Communities, Budget 2022 proposes an additional $190.5 million in 2022-23 to Indigenous Services Canada for the Indigenous Community Support Fund to help Indigenous communities and organizations mitigate the ongoing impacts of COVID-19.
Additionally, $398 million is proposed over the next two years to support community infrastructure on reserve, with $247 million dedicated specifically to water and wastewater infrastructure. Budget 2022 also proposes to provide a further $4 billion over seven years to Indigenous Services Canada and Crown-Indigenous Relations and Northern Affairs Canada to accelerate work in closing Indigenous housing gaps.
Conclusion
Infrastructure funding remains a primary challenge faced by Canadian local governments. The need for greater tools and resources to engage in proper infrastructure planning by local governments was reestablished in Budget 2022. ICIP and the Canada Community Building Fund continue to be core funding sources available to municipalities to support their infrastructure efforts. The introduction of the new $4 billion Housing Accelerator Fund will be another welcome funding resource to support municipalities' infrastructure efforts.
If your community is interested in how best to utilize these funding mechanisms – whether it's prioritizing infrastructure projects or implementing e-permitting solutions as set out in the Housing Accelerator Fund – schedule a demo with us to learn more.